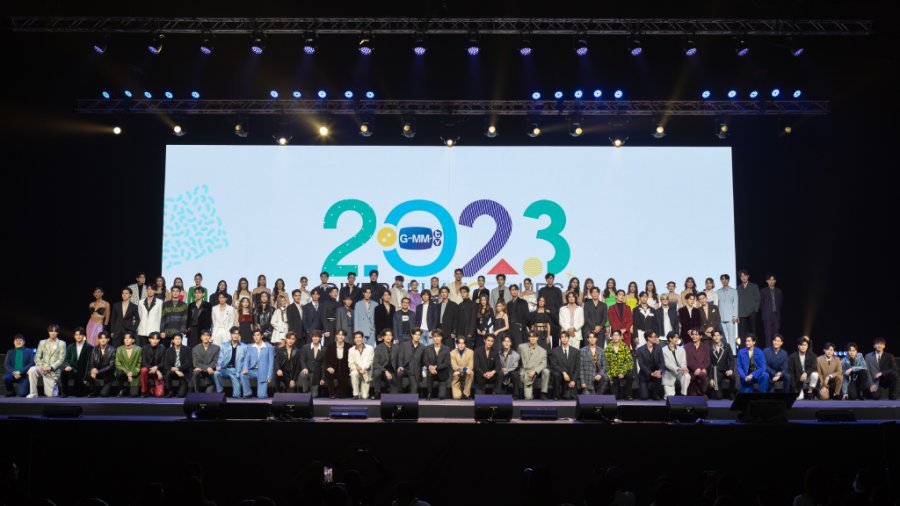 Thai entertainment production company GMMTV held their "GMMTV 2023 | DIVERSELY YOURS," event on November 22, 2022, to announce their line-up of upcoming projects slated for release in 2023. A replay of the event can be found on GMMTV's YouTube channel here (basic English subtitles are provided, though a little delayed). Below is a quick summary of the series that were announced.
There were 31 projects announced in the event, with 21 being new productions in 2023 and 10 from 2022 that were delayed due to the pandemic. Since there are so many projects, to make it easier for the readers who want to find a specific type of show without having to go through all of them below, we color-coded the shows as follows:
| | | | |
| --- | --- | --- | --- |
| | Non-dramas (1 TV show, 2 movies) | | Romance dramas (BLs and 1 GL) |
| | Romance dramas (MC hetero romance) | | Non-romance dramas |
Let's start!
---
Delayed Series to Air in Late 2022
By the time this article is published, the dramas that are slated to air in the middle of December have probably started. Therefore, if you are currently watching (or have watched) these dramas below, let us know in the comments: are they worth a try by other readers?
The Warp Effect

Start date: December 12, 2022Genres: Comedy, RomanceMain Cast: New and Fah

Never Let Me Go

Start date: December 13, 2022Genres: Action, Romance, CrimeMain Cast: Pond and Phuwin

10 Years Ticket

Start date: December 14, 2022Genres: Romance, Drama, FamilyMain Cast: Ohm, Tu, and Off
Midnight Series
Following the dramas slated for mid-December above, the closing night of the ending of 2022 has become darker with these three miniseries below, starting on December 28, 2022:
Midnight Motel

Start date: December 28, 2022Genres: Romance, CrimeMain Cast: Off and Jan

Dirty Laundry

Airs: January 18, 2023Genres: Comedy, RomanceMain Cast: Nanon and Film

Moonlight Chicken

Airs: February 8, 2023Genres: Food, RomanceMain Cast: Earth and Mix
---
Delayed Series to Air in Early 2023
You probably heard about these upcoming dramas below, you watched their trailers, and you have waited for about a year since they were announced by GMMTV at their previous event promoting 2022 dramas. They couldn't make it this year, but definitely they will next year!
Home School

Genres: Thriller, Mystery, YouthMain Cast: Dew, Nani, Kay, Prim, Chimon, Gun, Love, Jane, Jamie, AJ, JJ, Prigkhing, and Film.

UMG (Unidentified Mysterious Girlfriend)

Genres: Mystery, Romance, Sci-FiMain Cast: Nanon, Milk, and Namtan
Be My Favorite

Genres: Romance, SupernaturalMain Cast: Fluke and Krist

My Precious

Genres: Romance, Youth, DramaMain Cast: Nanon and FilmRelease Date: March 16, 2023
---
New 2023 Series Announcements
Now, this is where the real excitement begins: 21 new projects from GMMTV: 1 TV show (just started), and the upcoming 19 dramas and 1 movie!
By clicking the screenshots below each drama (and one movie) you are forwarded to their respective official trailers on GMMTV's YouTube account. The trailers are also available on their respective MDL pages. Watch them and share your thoughts in the comment section!
Project Alpha

Alpha is the strongest wolf. Beta is the remaining wolf in the pack.
Project Alpha is an intense survivor reality contest to debut idol as the new face of GMMTV.

The 27 contestants go through 

the toughest challenges and are judged 

by well-known figures in the Thai entertainment industry.




You can get to know about the show 

and the contestants, and also watch and cheer them on its official YouTube channel 

Project Alpha

!




Start date: December 4, 2022 

Airs on Sundays
Enigma

 

Genres: Horror, Supernatural

A horror/thriller series set in an all-girls secondary (middle) school. Students begin to act strangely as finals approach, and Fa (Prim) swears that the new teacher, Ar Jin (Win), has something to do with it.

"Danger can sometimes be seductive. It makes my heart pound like crazy."

A Boss and a Babe

 
Genre: Workplace Romance
Chay (Book), who also goes by Laem, is an avid e-sports player. However, after taking on an internship, his originally content life is thrown into disarray. Being an intern is already hard enough, but now his boss, Gun (Force), is flirting with him?

"Don't act like the main character in a novel 

who confesses his love when the other is asleep."

Find Yourself

Genres: Business, Romance, Life, Drama

A Thai remake of a Chinese series of the same name. Yin (Aff) finds herself at a point in her life where she is doing well in her career, but all her mother can do is nag her about finding someone to settle down with. At 38 years old, dating is tough when she suddenly finds herself in a compromised situation with Chain (Nonkul), an intern at her company.

"What did you do to me?"
"You are the one who made the first move."
Double Savage

Genres: Action, Drama

Pakorn (Ohm), who also goes by Korn, came to a crossroads in his life and was forced to choose the path of crime. Growing up, he always had his brother (Perth) and their friend, Rungtawan (Film), to support him. With this decision, he is forcibly ejected from their lives, but the bonds of love that bind family and friends don't always break that easily. 

*Fun fact: This is Perth's first announced series since he joined GMMTV in April 2022.

"This is fun, watching brothers killing each other."
Hidden Agenda

Genres: Romance, Youth

Zo (Dunk) enters his freshman year of university and sets his sight on one of the most popular girls on campus, Nita (Jamie). One problem – he's never wooed anyone before, let alone dated. So, his friends recommend that he ask Nita's ex, Joke (Joong), for advice on how to approach her. Joke agrees to help him, but not necessarily out of the kindness of his heart, for Joke's heart has other reasons…

"Joke, can you help me hit on Nita?"

"Spend the night with me. I'll help."
23.5

Genres: Romance, Youth
Ongsa (Milk) has always been an outcast at school, but when she happens upon an opportunity to enter the virtual orbit of Sun (Love), she gives herself the online nickname of Earth to begin chatting with Sun. Not long after, Ongsa realizes she's fallen for Sun, but what if those feelings aren't reciprocated? Can the Earth build up the courage to break out of orbit and fall straight into the Sun?
Because You're My First Love

Genre: Romance

How often do you think about your first love? Som-O (Prim) finds herself back in a familiar childhood space, reminiscing about how she never had a chance to truly connect with her first love, Chadjen (Dew) before life led them down separate paths. But, perhaps their paths can cross again?

"My first love happened here, with this guy."
Cooking Crush

Genres: Food, Comedy, Romance

Prem (Gun) has big dreams about being a world-renowned chef, but his actual skills are… less than world-renowned at the moment, and his financial troubles reflect that. When he and his coworkers hear about a cooking competition that comes with a cash prize, they jump at the chance to get their feet back under them. It's all easier said than done though, and their financial situation continues to decline. Out of the blue, Ten (Off), a graduating medical student, reaches out to Prem and asks for cooking lessons. Hoping to make some quick cash back, Prem agrees to teach him for a price. As they meet for each lesson, the kitchen grows warmer and warmer.
Wednesday Club

Genres: Romance, Drama

Fate seems to bring a group of seven students together when they all meet at a police station. As it would turn out, they all attend the same university and they're all the middle children of their family. Often feeling left out in their day-to-day lives, these new friends bond together over the shared burden of being constantly overlooked. 

But, prior to meeting each other, they all developed ways to cope with their middle-child status, and some methods aren't so savory.

Main Cast: Ohm, Nani, Jane, Piploy, Joong, Kay, and Phuwin.
Last Twilight

Genre: Romance
Burdened with heavy debt, Mork (Jimmy), a mechanic, is forced to take a high-paying job as a caretaker to Day (Sea), a rich heir with partial blindness following an accident. Day hires Mork who—unlike other applicants— seems to take no pity on him. With so much time spent in each others' company, the two develop a deep bond. When Day learns he'll have approximately 180 days until he loses what vision he has remained, how will the two weather the trials ahead?
Loneliness Society

Genre: Romance
Meena (Nune) finds herself single at 30 years old, having quit a high-paying tech job to work as a delivery person in the hopes of finding "Mr. Right". As luck would have it, one of her recent jobs let her meet Mr. Arthit (Iang) and she later finds him a victim of a hit-and-run. While admitting him into the hospital, she lies about being his girlfriend to get his family's contact information, only to be overheard by his family, who are overjoyed to meet her – except for Tun (Joss), Arthit's brother, who is suspicious of her claimed relationship and begins to investigate her. As he spends more time with her, their two lonely souls slowly find comfort in each other's presence.
"Don't worry. You have this friend sitting lonely with you."
"What if I don't want just a friend?"
Only Friends


Genres: Romance, Youth, Drama
Mew (Book), Ray (Khaotung), and Boston (Neo)—a group of business students running a hostel together—blur the lines between friendship and romance.  Mew has been focusing on his studies, setting aside no time for sex and relationships. Upon learning of his friend's innocence, Boston introduces Mew to Top (Force). What Boston intended to be a one-night affair turns into something more and he isn't happy with the turn of events. Economics student Saen (First) wants an exclusive relationship with Ray, but Ray has feelings for Mew and he's not interested in settling. IT guy Nick (Mark) finds a sex tape in Boston's phone and ends up in a friends-with-benefits relationship with him. However, Nick wants something more.  
Faceless Love

Genre: Romance
Vikij (Dew) is a handsome, rich, and clever young man with prosopagnosia, which means that he can't recognize faces. For this reason, he decides to hire an assistant to help connect him with the rest of the world. Mirin (Kao) becomes the girl responsible for that. Will it be possible to have a relationship beyond employer and employee?
Based on the Japanese series Rich Man, Poor Woman.
Dangerous Romance

Genres: Romance, Youth, Drama
Sailom (Chimon), a poor and studious student, has worked several odd jobs along with his elder brother (Papang) in an effort to keep them afloat. One day, a misunderstanding causes him to hate school bully Kanghan (Perth). However, fate plays its hand when Sailom, offered a sum of money too great to refuse, takes on the role of Kanghan's private tutor. Despite their difference, the two develop an irrefutable connection.  
"Should I just be your sugar baby?… I'm expensive."
"I can pay."
The Jungle

Genre: Drama

In the jungle, you are either predator or prey. 

Known as The Jungle, a group of five playboys and the owner of the Rendezvous (a secret club with exclusive entry) hunt to their heart's content every night, relieving the stresses of their daily lives. But, your status is never stable in the jungle…

Main Cast: Krist, Off, Lee, Luke, Nanon, and Mix.

"You know it's dangerous, and you see the exit right in front of you.
But you still don't want to leave this place."
Cherry Magic

Genres: Romance, Supernatural

Adapted from the manga series "30-sai made Dotei Da to Mahotsukai ni nareru rashii" by Toyota Yuu and the Japanese series of the same name. Achi (New), a virgin who just turned 30 years old, is startled to find that he suddenly has the ability to read the thoughts of people he touches, and even more so to find that one of his coworkers, Karan (Tay) has a secret crush on him!

** NOTE: No trailer for Cherry Magic yet!
Midnight Museum

Genre: Supernatural

A young cafe barista (Gun) is offered a job at the curious Midnight Museum on the day his cafe is closing, whose mysterious curator (Tor) has been a patron of the cafe since its opening. Upon arriving at the Midnight Museum, the barista slowly begins to unravel his own past tragedies as they relate to the "displays".

"But I never thought that a new opportunity would be a nightmare from the past,
the past that has imprisoned me for so long."
Our Skyy 2

Genre: Romance

Similarly to its previous season, Our Skyy 2 will bring us an anthology of "special episodes" of our favorite BL couples from A Tale of Thousand Stars (EarthMix), The Eclipse (FirstKhaotung), A Boss and a Babe (ForceBook), My School President  (GeminiFourth), Star and Sky: Star in My Mind (JoongDunk), Never Let Me Go (PondPhuwin), Vice Versa (JimmySea), and Bad Buddy  (OhmNanon) to see what they've been up to since their series ended.
Beauty Newbie

Genre: Romance

Adapted from the Korean webcomics on WEBTOON "My ID is Gangnam Beauty" by Gi Maeng Gi. Prima (Baifern) had a series of plastic surgeries done in the hopes that she would stop being bullied for her looks, but that doesn't cure her fixation on what others think of her.

"If you're ready to fight this judgmental world, 

let me be the one who stands next to you."
The Interest

Genres: Action, Romance

A debt collector's job is filled with violence and money on a daily basis. When a debt collector (Bright) wants out of the business, he is sent on one last job to collect from an unassuming girl (Yaya).

"I don't know what your world is like. But mine has three types of people: 

creditor, debtor, and me… collector."
---
JANELL
Having been newly introduced to the Thai entertainment industry in late 2022, it's astounding to me how busy many of these young, impressive actors and actresses are – many are appearing in multiple series throughout 2023. I became a huge fan of FirstKhaotung after their run on The Eclipse, so I'm looking forward to seeing them flex their acting skills in Only Friends. But, I haven't decided if I want to follow it as it airs, or wait to binge it.
CHO NA
Phew… so many upcoming shows… 19 trailers watched… where should I start? First of all, the list surprised me with GMMTV's boldness to take on six remake projects of shows from all over the world. Let's hope they make these adaptations the same quality as their respective versions, if not better, using the original sources. From the trailer, I think Cooking Crush will be the funniest BL romcom because of OffGun's off-the-chart chemistry and the chef trio's quirkiness. However, I made a prediction that Last Twilight may be the best 2023 BL from the plot, acting, chemistry, and cinematography seen. I was misty-eyed just by watching the trailer! Let's see if my guess comes true by the end of the year ;D. As for straight romance, I will try all of Dew Jirawat's upcoming dramas, despite disliking the original versions of the two remakes. Normally, I only become an actor's fan after watching several of his/her shows, but having been glued to the screen every time Dew appeared during his debut in F4 Thailand: Boys Over Flowers, I wonder if this is what people called: falling in love at first sight scene???
Although I mostly watch romance dramas, after color-coding the shows, I realized that I'm more attracted to the purple ones, the non-romance dramas. From the upcoming Home School that I have waited for about a year, to the last non-romance drama trailer watched, I think I will be more in Dark Mode next year. I'm more excited about watching dramas with mystery/thriller/action/crime/horror genres that give me heart palpitation more than romantic dramas. After watching Enigma's trailer above, I asked myself: "how can danger be so seductive?"
Therefore, my fingers itched to make the GIF below, unplanned. Midnight Museum is gothic-like by looking at the poster. The mysterious plot gives me the Korean Hotel del Luna vibe. Overall characterization, costume, and cinematography are insanely creepy. But the unlikely collaboration of Tor Thanapob and Gun Atthaphan, two Thai actors with solid acting skills performing a variety of roles, is what I'm dying to watch for. Can I make another prediction: that Midnight Museum will become the best Thai drama in 2023? Time will tell…
Since GMMTV acknowledges and appreciates us, their international fans, by providing timely and proper subs in English and other languages on their official YouTube channel, therefore, we reciprocate by excitedly waiting (im)patiently for their upcoming shows next year.
Now, after gathering our thoughts upon watching all trailers above…
WHAT ARE YOUR THOUGHTS???
---
| | |
| --- | --- |
| Thank you to the editors who edited this article! Credits: Images are linked to their respective sources, otherwise, they are official posters on MDL. The Feature Image is taken from GMMTV 2023 | DIVERSELY YOURS,. First draft: Janell. Visual design and preliminary editing: Cho Na.  | Edited by: devitto (1st editor) |
thai drama
gmmtv
diversely yours
upcoming drama