Park Jung Min Nama: Park Jung Min Nama asli: Juga Dikenal sebagai: Park Jeong Min Kebangsaan: Korea Selatan Jenis Kelamin: Pria Lahir: 24 Maret 1987 Umur: 35 Park Jung Min adalah aktor, penyanyi, penulis lirik, dan penulis Korea Selatan.
Dia memenangkan penghargaan Aktor Pendukung Terbaik di Blue Dragon Film Awards ke-41.
Dia muncul dalam peran utama pertama di layar kecil dalam lima tahun di miniseri Netflix 2021 "Hellbound".
A writer to best-selling book ,A Useful Person, he also owns a bookstore and a cafe called Book, Night, Day in Seoul.
Biodata Park Jung Min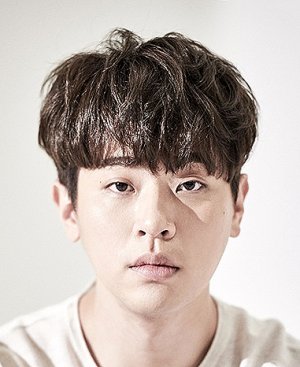 Nama: Jung Min
Nama Keluarga / Marga: Park
Nama Asli Sesuai Bahasa Negaranya: 박정민
Nama Lain Yang Sering Disebutkan: Park Jeong Min
KewargaNegaraan: South Korean
Jenis Kelamin: Pria
Tanggal Dan Tahun lahir: March 24, 1987
Umur: 35
Berikut Adalah Daftar Director-nya Hingga Saat Ini:
| Year | Title | Type | Rating |
| --- | --- | --- | --- |
| 2021 | Unframed | Movie | 7.5 |
Berikut Adalah Daftar Drama-nya Hingga Saat Ini:
Year
Title
#
Role
Rating
2022
Sh**ting StarsKorean Drama,

2022

, 16 eps


Park Jo Eun (Ep. 1)

(Guest Role)

16
Park Jo Eun (Ep. 1)
Guest Role

8.4
2022
Money GameKorean Drama,

2022

, 8 eps


(Main Role)

8
Main Role

0.0
2021
HellboundKorean Drama,

2021

, 6 eps


Bae Young Jae

(Main Role)

6
Bae Young Jae
Main Role

7.5
2018
Mr. SunshineKorean Drama,

2018

, 24 eps


Ahn Chang Ho (Ep. 22)

(Guest Role)

24
Ahn Chang Ho (Ep. 22)
Guest Role

8.9
2016
EntourageKorean Drama,

2016

, 16 eps


Lee Ho Jin

(Main Role)

16
Lee Ho Jin
Main Role

6.8
2015
Reply 1988Korean Drama,

2015

, 20 eps


[Bo Ra's boyfriend] (Ep. 8-9)

(Guest Role)

20
[Bo Ra's boyfriend] (Ep. 8-9)
Guest Role

9.1
2014
Valid LoveKorean Drama,

2014

, 20 eps


Jang Gi Tae [Hee Tae's younger brother]

(Support Role)

20
Jang Gi Tae [Hee Tae's younger brother]Support Role

7.3
2014
Momo SalonKorean Drama,

2014

, 6 eps


Chang Gyun

(Main Role)

6
Chang Gyun
Main Role

7.0
2014
You're All SurroundedKorean Drama,

2014

, 20 eps


Ji Kook

(Main Role)

20
Ji Kook
Main Role

8.2
2012
Golden TimeKorean Drama,

2012

, 23 eps


Jang Young Woo

(Support Role)

23
Jang Young Woo
Support Role

7.4
2012
Feast of the GodsKorean Drama,

2012

, 32 eps


Jang Mi So

(Support Role)

32
Jang Mi So
Support Role

7.4
Berikut Adalah Daftar Movie-nya Hingga Saat Ini:
Year
Title
Role
Rating
TBA
SmugglersKorean Movie,

0000

,


(Main Role)

Main Role

0.0
TBA
One WinKorean Movie,

0000

,


Kang Jeong Won

(Main Role)

Kang Jeong Won
Main Role

0.0
TBA
HarbinKorean Movie,

0000

,


(Main Role)

Main Role

0.0
2022
Another Record: Lee Je HoonKorean Movie,

2022

,


(Guest Role)

Guest Role

0.0
2022
Decision to LeaveKorean Movie,

2022

,


Hong San Oh

(Support Role)

Hong San Oh
Support Role

7.7
2022
Life Is But a DreamKorean Movie,

2022

,


[Swordsman]

(Main Role)

[Swordsman]Main Role

7.3
2021
Miracle: Letters to the PresidentKorean Movie,

2021

,


Jung Jun Kyung

(Main Role)

Jung Jun Kyung
Main Role

8.3
2020
Deliver Us From EvilKorean Movie,

2020

,


Yui

(Main Role)

Yui
Main Role

7.8
2020
Time to HuntKorean Movie,

2020

,


Sang Soo

(Main Role)

Sang Soo
Main Role

7.8
2019
Start-UpKorean Movie,

2019

,


Go Taek Il

(Main Role)

Go Taek Il
Main Role

7.7
2019
Tazza: One-Eyed JacksKorean Movie,

2019

,


Do Il Chool

(Main Role)

Do Il Chool
Main Role

7.7
2019
Svaha: The Sixth FingerKorean Movie,

2019

,


Chun Na Han

(Main Role)

Chun Na Han
Main Role

7.3
2018
Sunset in My HometownKorean Movie,

2018

,


Hak Soo

(Main Role)

Hak Soo
Main Role

7.9
2018
PsychokinesisKorean Movie,

2018

,


Kim Jung Hyun

(Support Role)

Kim Jung Hyun
Support Role

7.2
2018
Keys to the HeartKorean Movie,

2018

,


Jin Tae

(Main Role)

Jin Tae
Main Role

8.2
2017
Behead the KingKorean Movie,

2017

,


[Delegate]

(Support Role)

[Delegate]Support Role

7.4
2017
The Artist: RebornKorean Movie,

2017

,


Jae Beom

(Main Role)

Jae Beom
Main Role

6.6
2017
The KingKorean Movie,

2017

,


Heo Ki Hoon

(Support Role)

Heo Ki Hoon
Support Role

7.9
2016
Horror Stories IIIKorean Movie,

2016

,


Dong Geun

(Main Role)

Dong Geun
Main Role

6.7
2016
UnforgettableKorean Movie,

2016

,


Yong Soo [Gae Deok's brother]

(Support Role)

Yong Soo [Gae Deok's brother]Support Role

8.2
2016
Dong Ju: The Portrait of a PoetKorean Movie,

2016

,


Song Mong Gyu

(Main Role)

Song Mong Gyu
Main Role

7.8
2015
OfficeKorean Movie,

2015

,


Lee Won Seok

(Support Role)

Lee Won Seok
Support Role

7.1
2015
Heartbreak HotelKorean Movie,

2015

,


Chen

(Support Role)

Chen
Support Role

6.8
2014
MAD SAD BADKorean Movie,

2014

,


Bo Hyun {Ghost}

(Main Role)

Bo Hyun {Ghost}
Main Role

7.6
2014
Tinker TickerKorean Movie,

2014

,


Hyo Min

(Main Role)

Hyo Min
Main Role

7.3
2014
Hot Young BloodsKorean Movie,

2014

,


Hwang Gyu

(Support Role)

Hwang Gyu
Support Role

7.7
2013
The FluKorean Movie,

2013

,


Cha Chul Gyo [Soldier]

(Support Role)

Cha Chul Gyo [Soldier]Support Role

8.4
2013
Fists of LegendKorean Movie,

2013

,


Im Deok Gyu [Young]

(Support Role)

Im Deok Gyu [Young]Support Role

7.7
2012
Dancing QueenKorean Movie,

2012

,


(Support Role)

Support Role

7.4
2011
Bleak NightKorean Movie,

2011

,


Baek Hee Joon

(Main Role)

Baek Hee Joon
Main Role

7.9
2011
The Red HandKorean Movie,

2011

,


(Main Role)

Main Role

6.0
Berikut Adalah Daftar Special-nya Hingga Saat Ini:
Year
Title
#
Role
Rating
2014
You're All Surrounded SpecialKorean Special,

2014

, 1 eps


Ji Kook

(Support Role)

1
Ji Kook
Support Role

7.6
2013
Drama Special Series Season 3: Adolescence MedleyKorean Special,

2013

, 4 eps


Shin Young Bok

(Support Role)

4
Shin Young Bok
Support Role

7.8
Berikut Adalah Daftar TV Show-nya Hingga Saat Ini:
Year
Title
#
Role
Rating
2020
Yoo Quiz On The Block: Season 3Korean TV Show,

2020

, 162 eps


(Ep. 109)

(Guest)

162
(Ep. 109)
Guest

8.2
2019
Hangout with YooKorean TV Show,

2019

, 170 eps


(Ep. 2)

(Guest)

170
(Ep. 2)
Guest

8.4
2018
Movie RoomKorean TV Show,

2018

, 74 eps


(Ep. 71)

(Guest)

74
(Ep. 71)
Guest

7.0
2018
Amazing SaturdayKorean TV Show,

2018

, 300 eps


(Ep. 119)

(Guest)

300
(Ep. 119)
Guest

8.4
2015
Knowing BrosKorean TV Show,

2015

, 365 eps


(Ep. 299)

(Guest)

365
(Ep. 299)
Guest

8.8
2013
I Live AloneKorean TV Show,

2013

, 478 eps


(Ep. 324)

(Guest)

478
(Ep. 324)
Guest

8.3
2010
Running ManKorean TV Show,

2010

, 637 eps


(Ep. 342, 397, 465)

(Guest)

637
(Ep. 342, 397, 465)
Guest

9.2
2007
Live Talk Show TaxiKorean TV Show,

2007

, 501 eps


(Ep. 467)

(Guest)

501
(Ep. 467)
Guest

8.0