Bae In Hyuk Nama: Bae In Hyuk Nama asli juga Dikenal sebagai: Bae In Hyeok Kebangsaan: Korea Selatan Jenis Kelamin: Pria Lahir: 4 April 1998 Umur: 24 Bae In Hyuk is a South Korean actor who made his acting debut in 2019 with the short web movie "Love Buzz".
He is currently managed under the actor agency Fides Spatium.
In addition to his roles in the web series, he has appeared in two music videos.
Biodata Bae In Hyuk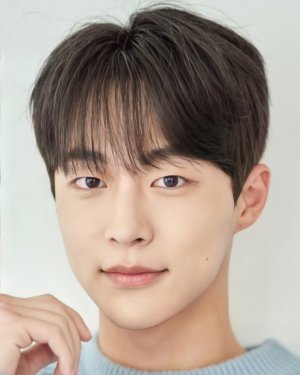 Nama: In Hyuk
Nama Keluarga / Marga: Bae
Nama Asli Sesuai Bahasa Negaranya: 배인혁
Nama Lain Yang Sering Disebutkan: Bae In Hyeok
KewargaNegaraan: South Korean
Jenis Kelamin: Pria
Tanggal Dan Tahun lahir: April 4, 1998
Umur: 24
Berikut Adalah Daftar Drama-nya Hingga Saat Ini:
Year
Title
#
Role
Rating
2022
The Queen's UmbrellaKorean Drama,

2022

, 16 eps


Crown Prince

(Support Role)

16
Crown Prince
Support Role

0.0
2022
Cheer UpKorean Drama,

2022

, 16 eps


Park Jung Woo

(Main Role)

16
Park Jung Woo
Main Role

0.0
2022
Why Her?Korean Drama,

2022

, 16 eps


Choi Yoon Sang

(Main Role)

16
Choi Yoon Sang
Main Role

8.2
2021
At a Distance, Spring Is GreenKorean Drama,

2021

, 12 eps


Nam Soo Hyun

(Main Role)

12
Nam Soo Hyun
Main Role

8.3
2021
My Roommate Is a GumihoKorean Drama,

2021

, 16 eps


Gye Sun Woo

(Main Role)

16
Gye Sun Woo
Main Role

8.4
2020
The Spies Who Loved MeKorean Drama,

2020

, 16 eps


Kim Young Goo [Secret agent]

(Support Role)

16
Kim Young Goo [Secret agent]Support Role

7.6
2020
Kiss GoblinKorean Drama,

2020

, 12 eps


Ban Sook [Goblin] / Kim Keon Woo [Human]

(Main Role)

12
Ban Sook [Goblin] / Kim Keon Woo [Human]Main Role

8.0
2020
Was It Love?Korean Drama,

2020

, 16 eps


[Novel swordsman] (Ep.1-2)

(Guest Role)

16
[Novel swordsman] (Ep.1-2)
Guest Role

7.3
2020
To All The Guys Who Loved MeKorean Drama,

2020

, 32 eps


Hwang Ji Woo [Young] (Ep. 4)

(Guest Role)

32
Hwang Ji Woo [Young] (Ep. 4)
Guest Role

7.2
2020
XXKorean Drama,

2020

, 10 eps


Park Dan Hee

(Main Role)

10
Park Dan Hee
Main Role

8.2
2019
Kiss Scene in YeonnamdongKorean Drama,

2019

, 12 eps


Han Yun Woo

(Support Role)

12
Han Yun Woo
Support Role

7.9
2019
Teacher, Would You Like to Date Me?Korean Drama,

2019

, 3 eps


Choi Jin Woo

(Main Role)

3
Choi Jin Woo
Main Role

7.2
2019
Triple Fling Season 2Korean Drama,

2019

, 8 eps


Shin Jeong Woo

(Main Role)

8
Shin Jeong Woo
Main Role

7.4
2019
When You Love Yourself 2Korean Drama,

2019

, 10 eps


Ji Ho ( Gong Joo Yi's crush)

(Bit part)

10
Ji Ho ( Gong Joo Yi's crush)
Bit part

7.8
Berikut Adalah Daftar Movie-nya Hingga Saat Ini:
Year
Title
Role
Rating
TBA
AgreementKorean Movie,

0000

,


Eun Sung [Yong's bestfriend]

(Main Role)

Eun Sung [Yong's bestfriend]Main Role

0.0
2019
Love BuzzKorean Movie,

2019

,


Park Seung Jun

(Main Role)

Park Seung Jun
Main Role

7.8
Berikut Adalah Daftar TV Show-nya Hingga Saat Ini:
Year
Title
#
Role
Rating
2020
Eungsu CINEKorean TV Show,

2020

, 350 eps


(Ep. 211, 366)

(Guest)

350
(Ep. 211, 366)
Guest

6.0