Tommy Sittichok Pueakpoolpol Nama: Tommy Sittichok Pueakpoolpol Nama asli: Juga Dikenal sebagai: Sitthichok Puakpoolphon Kebangsaan: Thai Jenis Kelamin: Laki-Laki Lahir: 29 September 1995 Umur: 26 Sittichok Pueakpoolpol, nicknamed Tommy, is a Thai actor, model, and singer under Domundi TV.
Tommy started his career at the age of 15 By shooting commercials and music videos.
He is known for his work as Zon from Why R U The Series and the music video Written In My Heart, sung by Da Endorphine.
Tommy released his debut single "Tell Now" on 09.
07.
2020.
He is also a member of the Thai boy band called "Boyfriends".
Biodata Tommy Sittichok Pueakpoolpol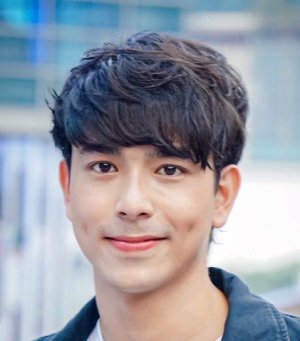 Nama: Sittichok
Nama Keluarga / Marga: Pueakpoolpol
Nama Asli Sesuai Bahasa Negaranya: ทอมมี่ สิทธิโชค เผือกพูลผล
Nama Lain Yang Sering Disebutkan: Sitthichok Puakpoolphon
KewargaNegaraan: Thai
Jenis Kelamin: Pria
Tanggal Dan Tahun lahir: September 29, 1995
Umur: 26
Berikut Adalah Daftar Drama-nya Hingga Saat Ini:
Year
Title
#
Role
Rating
TBA
IllusionThai Drama,

0000

, 0 eps


Tham

(Main Role)

0
Tham
Main Role

0.0
TBA
Punk SpyThai Drama,

0000

, 1 eps


Wa

(Main Role)

1
Wa
Main Role

0.0
2022
Rose In Da HouseThai Drama,

2022

, 7 eps


[Himself]

(Main Role)

7
[Himself]Main Role

7.7
2022
Remember 15Thai Drama,

2022

, 12 eps


Ken

(Main Role)

12
Ken
Main Role

7.3
2022
Cutie PieThai Drama,

2022

, 12 eps


(Ep. 12)

(Guest Role)

12
(Ep. 12)
Guest Role

7.8
2022
Bed FriendThai Drama,

2022

, 8 eps


Jade

(Support Role)

8
Jade
Support Role

0.0
2021
Peach of TimeKorean Drama,

2021

, 10 eps


Mario

(Main Role)

10
Mario
Main Role

7.5
2021
Close FriendThai Drama,

2021

, 6 eps


Mekhin / Cloud (Ep. 5)

(Main Role)

6
Mekhin / Cloud (Ep. 5)
Main Role

6.9
2020
You Never Eat AloneThai Drama,

2020

, 12 eps


Mouth (Ep. 1)

(Guest Role)

12
Mouth (Ep. 1)
Guest Role

6.9
2020
Why R U?Thai Drama,

2020

, 13 eps


Zon

(Main Role)

13
Zon
Main Role

7.8
2018
Love Songs Love Series: Final Day of FriendshipThai Drama,

2018

, 5 eps


Yod

(Main Role)

5
Yod
Main Role

7.8
2017
The Legend of King Naresuan The Series: Season 1Thai Drama,

2017

, 12 eps


Rachamanu / Bunting [Teenager]

(Support Role)

12
Rachamanu / Bunting [Teenager]Support Role

8.5
2015
LOVE SMARTThai Drama,

2015

, 3 eps


Earth

(Main Role)

3
Earth
Main Role

7.7
Berikut Adalah Daftar Movie-nya Hingga Saat Ini:
Year
Title
Role
Rating
2021
Peach of Time (Movie)Korean Movie,

2021

,


Mario

(Main Role)

Mario
Main Role

7.9
2019
Pee NakThai Movie,

2019

,


Naga

(Guest Role)

Naga
Guest Role

7.3
2016
Joking Jazz 4GThai Movie,

2016

,


Tom

(Bit part)

Tom
Bit part

7.4
2015
Oh My Ghost 4Thai Movie,

2015

,


[Student]

(Support Role)

[Student]Support Role

7.4
Berikut Adalah Daftar Special-nya Hingga Saat Ini:
Year
Title
#
Role
Rating
2022
Rose in Da House: Boys with the CatThai Special,

2022

, 1 eps


[Himself]

(Main Role)

1
[Himself]Main Role

7.0
2022
Rose In Da House: Ghost BuddyThai Special,

2022

, 1 eps


[Himself]

(Main Role)

1
[Himself]Main Role

8.0
2022
Rose in Da House: CamThai Special,

2022

, 7 eps


[Himself] (Ep. 2-3, 7)

(Main Role)

7
[Himself] (Ep. 2-3, 7)
Main Role

8.0
2022
Rose In Da House: Story In Da HouseThai Special,

2022

, 1 eps


[Himself]

(Main Role)

1
[Himself]Main Role

7.5
2022
Rose In Da House: Behind Da HouseThai Special,

2022

, 4 eps


[Himself]

(Main Role)

4
[Himself]Main Role

7.6
2022
Rose In Da House: ReactionThai Special,

2022

, 1 eps


[Himself]

(Main Role)

1
[Himself]Main Role

7.2
2022
Rose In Da House: Welcome To Da HouseThai Special,

2022

, 1 eps


[Himself]

(Main Role)

1
[Himself]Main Role

7.9
2020
SaifahZon StoryThai Special,

2020

, 3 eps


Zon

(Main Role)

3
Zon
Main Role

7.3
2020
Behind WHY R UThai Special,

2020

, 7 eps


Himself / Zon

(Main Role)

7
Himself / Zon
Main Role

8.0
2020
Why R U? Special 10.5Thai Special,

2020

, 1 eps


Himself / Zon

(Main Role)

1
Himself / Zon
Main Role

7.9
2020
Why R U? SpecialThai Special,

2020

, 1 eps


Himself / Zon

(Main Role)

1
Himself / Zon
Main Role

7.9
Berikut Adalah Daftar TV Show-nya Hingga Saat Ini:
Year
Title
#
Role
Rating
2022
Cutie Pie: ReactionThai TV Show,

2022

, 8 eps


(Ep. 1)

(Guest)

8
(Ep. 1)
Guest

8.4
2021
Mii2 in KoreaKorean TV Show,

2021

, 1 eps


(Main Host)

1
Main Host

10.0
2020
Boyfriends ChallengeThai TV Show,

2020

, 10 eps


(Regular Member)

10
Regular Member

8.1
2020
Watching it in Japan: Season 4Thai TV Show,

2020

, 5 eps


(Main Host)

5
Main Host

8.2
2020
SosatSeoulsayThai TV Show,

2020

, 200 eps


(Ep. 6, 75, 115, 122)

(Guest)

200
(Ep. 6, 75, 115, 122)
Guest

8.4
2019
Watching it in SendaiThai TV Show,

2019

, 2 eps


(Main Host)

2
Main Host

8.3
2019
Nung Na Rong: InterviewsThai TV Show,

2019

, 8 eps


{Mandee Project}

(Guest)

8
{Mandee Project}
Guest

10.0
2018
Watching it in Japan: Season 3Thai TV Show,

2018

, 7 eps


(Main Host)

7
Main Host

8.5