Yoshi Nama: Yoshi Nama asli juga Dikenal sebagai: Yoshinori, , , , Yoshi Kebangsaan: Korea Selatan Jenis Kelamin: Pria Lahir: 15 Mei 2000 Umur: 22 Kanemoto Yoshinori, lebih dikenal sebagai Yoshi, adalah seorang rapper, penari, dan penulis lagu dari boy grup Korea YG Entertainment, TREASURE.
Dia lahir di Kobe, Jepang, tetapi, sebagai generasi ke-4 Korea Jepang, dia berkebangsaan Korea, seperti yang dia sebutkan selama pertunjukan.
Pada tahun 2018, ia bergabung dengan acara survival, YG Treasure Box, sebagai kontestan.
Dia mengambil kesempatan itu namun dia tidak membuat grup utama melainkan grup kedua dari pertunjukan, yang disebut MAGNUM.
Kemudian, YG Entertainment mengumumkan MAGNUM akan dibubarkan dan 12 anggota lainnya akan debut sebagai TREASURE.
Ia debut bersama TREASURE pada 7 Agustus 2020, dengan lagu "BOY" dari album single debut mereka 'THE FIRST STEP : CHAPTER ONE'.
Bersama dengan anggota TREASURE, ia memenangkan penghargaan Rookie of the Year dan tampil di beberapa acara seperti Asia Artist Awards (AAA) He made his acting debut in the webdrama "It's okay, that's friendship".
Biodata Yoshi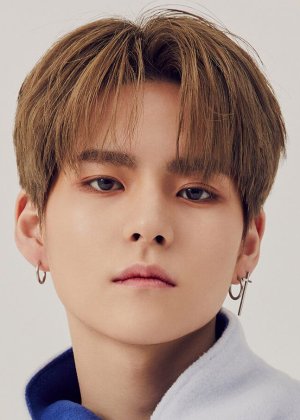 Nama: Yoshinori
Nama Keluarga / Marga: Kanemoto
Nama Asli Sesuai Bahasa Negaranya: よしのり
Nama Lain Yang Sering Disebutkan: Yoshinori, 金本芳典, かねもと よしのり, 요시, Yoshi
KewargaNegaraan: South Korean
Jenis Kelamin: Pria
Tanggal Dan Tahun lahir: May 15, 2000
Umur: 22
Berikut Adalah Daftar Drama-nya Hingga Saat Ini:
Year
Title
#
Role
Rating
2021
The Mysterious ClassKorean Drama,

2021

, 8 eps


Yoshi

(Main Role)

8
Yoshi
Main Role

8.4
2021
It's Okay, That's FriendshipKorean Drama,

2021

, 1 eps


(Main Role)

1
Main Role

8.3
Berikut Adalah Daftar TV Show-nya Hingga Saat Ini:
Year
Title
#
Role
Rating
2022
IdolStein: TREASUREKorean TV Show,

2022

, 2 eps


(Regular Member)

2
Regular Member

8.5
2022
The Idol RamyeonatorsKorean TV Show,

2022

, 10 eps


(Ep. 2)

(Guest)

10
(Ep. 2)
Guest

8.5
2022
Treasure Winter Camp In EverlandKorean TV Show,

2022

, 2 eps


(Regular Member)

2
Regular Member

8.6
2022
Adola School 3: PR on IdolKorean TV Show,

2022

, 25 eps


(Ep. 1)

(Guest)

25
(Ep. 1)
Guest

0.0
2022
Data Blip TreasureKorean TV Show,

2022

, 4 eps


Himself

(Guest)

4
Himself
Guest

8.2
2022
WORLD-CLASS K-DOLKorean TV Show,

2022

, 5 eps


(Ep. 1)

(Guest)

5
(Ep. 1)
Guest

8.6
2022
Jikjin Men FestivalKorean TV Show,

2022

, 2 eps


(Regular Member)

2
Regular Member

8.4
2021
Treasure – [TMI_LOG]Korean TV Show,

2021

, 21 eps


(Ep. 3-4, 7-8, 10, 13, 14, 18)

(Regular Member)

21
(Ep. 3-4, 7-8, 10, 13, 14, 18)
Regular Member

8.7
2021
M Spotlight: in the SchoolJapanese TV Show,

2021

, 6 eps


(Guest)

6
Guest

8.5
2021
Treasure: Find Your KoreaKorean TV Show,

2021

, 5 eps


(Ep. 4)

(Regular Member)

5
(Ep. 4)
Regular Member

8.7
2021
IDDPKorean TV Show,

2021

, 50 eps


(Guest)

50
Guest

8.9
2021
Music BloodJapanese TV Show,

2021

, 78 eps


(Ep. 53)

(Guest)

78
(Ep. 53)
Guest

10.0
2021
Treasure Map Season 2Korean TV Show,

2021

, 28 eps


(Regular Member)

28
Regular Member

8.6
2021
TREASURE Studio Season 3Korean TV Show,

2021

, 4 eps


(Regular Member)

4
Regular Member

8.6
2020
2020 SBS Gayo Daejeon in DaeguKorean TV Show,

2020

, 3 eps


[Performer]

(Regular Member)

3
[Performer]
Regular Member

8.8
2020
Random QKorean TV Show,

2020

, 9 eps


(Ep. 2)

(Guest)

9
(Ep. 2)
Guest

8.9
2020
TREASURE Studio Season 2Korean TV Show,

2020

, 4 eps


(Regular Member)

4
Regular Member

8.5
2020
Idol Human TheaterKorean TV Show,

2020

, 39 eps


(Ep. 27)

(Guest)

39
(Ep. 27)
Guest

8.5
2020
Idol League: Season 3Korean TV Show,

2020

, 20 eps


(Ep.8)

(Guest)

20
(Ep.8)
Guest

8.4
2020
TREASURE X Our NightKorean TV Show,

2020

, 1 eps


(Main Host)

1
Main Host

8.6
2020
Treasure Map Chuseok SpecialKorean TV Show,

2020

, 1 eps


(Regular Member)

1
Regular Member

8.7
2020
Party BKorean TV Show,

2020

, 1 eps


(Guest)

1
Guest

8.5
2020
TREASURE StudioKorean TV Show,

2020

, 18 eps


(Regular Member)

18
Regular Member

8.5
2020
TREASURE X LieVKorean TV Show,

2020

, 1 eps


(Main Host)

1
Main Host

8.8
2020
Star Road: TREASUREKorean TV Show,

2020

, 14 eps


(Regular Member)

14
Regular Member

8.6
2020
Treasure: T-TalkKorean TV Show,

2020

, 12 eps


(Main Host)

12
Main Host

8.6
2020
Treasure: Fact CheckKorean TV Show,

2020

, 9 eps


(Regular Member)

9
Regular Member

8.7
2020
Treasure: 3 Minute TreasureKorean TV Show,

2020

, 20 eps


(Regular Member)

20
Regular Member

8.8
2020
Treasure MapKorean TV Show,

2020

, 28 eps


(Regular Member)

28
Regular Member

8.7
2020
Treasure: T.M.IKorean TV Show,

2020

, 24 eps


(Regular Member)

24
Regular Member

8.8
2019
Midnight Idol Season 1Korean TV Show,

2019

, 345 eps


(Ep. 252, 288)

(Guest)

345
(Ep. 252, 288)
Guest

8.4
2019
Prison InterviewKorean TV Show,

2019

, 21 eps


(Ep. 11)

(Guest)

21
(Ep. 11)
Guest

8.8
2018
YG Treasure Box – In My BagKorean TV Show,

2018

, 29 eps


(Regular Member)

29
Regular Member

8.5
2018
YG Treasure Box – Survey CamKorean TV Show,

2018

, 29 eps


(Regular Member)

29
Regular Member

8.4
2018
YG TREASURE BOX – DIARY CAMKorean TV Show,

2018

, 123 eps


(Regular Member)

123
Regular Member

8.5
2018
YG TREASURE BOX – REACTION CAMKorean TV Show,

2018

, 7 eps


(Regular Member)

7
Regular Member

8.6
2018
YG Treasure BoxKorean TV Show,

2018

, 10 eps


[Contestant]

(Regular Member)

10
[Contestant]Regular Member

7.8
2015
Buzz RhythmJapanese TV Show,

2015

, 380 eps


(Ep. 301)

(Guest)

380
(Ep. 301)
Guest

10.0
2011
Weekly IdolKorean TV Show,

2011

, 594 eps


(Ep. 479, 552)

(Guest)

594
(Ep. 479, 552)
Guest

8.1
1998
Pops in SeoulKorean TV Show,

1998

, 6000 eps


(Guest)

6000
Guest

8.0