Jung Woo Seok Nama: Jung Woo Seok Nama asli juga Dikenal sebagai: Jeong Woo Seok, Jung Wu Suk Kebangsaan: Korea Selatan Jenis Kelamin: Pria Lahir: 31 Januari 1998 Umur: 24 Jung Woo Seok is the lead rapper, dancer, composer and maknae of the boy group Pentagon.
Before debuting he was a Cube Entertainment trainee since 2014.
He originally auditioned in order to become a model.
Wooseok participated in the survival program Pentagon Maker, and debuted under Cube Entertainment on October 10, 2016.
He co-produced "Energetic" and "Never" for Wanna One's debut with Pentagon's leader Hui.
Biodata Jung Woo Seok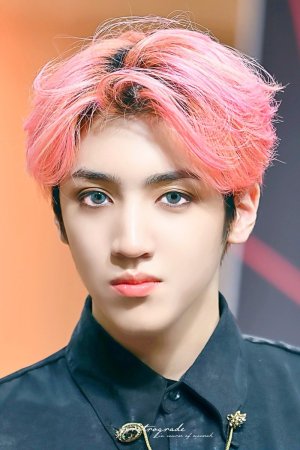 Nama: Woo Seok
Nama Keluarga / Marga: Jung
Nama Asli Sesuai Bahasa Negaranya: 정우석
Nama Lain Yang Sering Disebutkan: Jeong Woo Seok, Jung Wu Suk
KewargaNegaraan: South Korean
Jenis Kelamin: Pria
Tanggal Dan Tahun lahir: January 31, 1998
Umur: 24
Berikut Adalah Daftar Drama-nya Hingga Saat Ini:
Year
Title
#
Role
Rating
2021
The Guys I Want to CatchKorean Drama,

2021

, 10 eps


Woo Seok

(Main Role)

10
Woo Seok
Main Role

7.1
2021
Nickname Pine LeafKorean Drama,

2021

, 3 eps


Jung Seok Woo

(Main Role)

3
Jung Seok Woo
Main Role

7.2
2021
Convenience Store FlingKorean Drama,

2021

, 6 eps


Jung Woo Seok

(Main Role)

6
Jung Woo Seok
Main Role

7.6
2017
Age of Youth 2Korean Drama,

2017

, 14 eps


"Thor" / Park Woo Seok [Asgard member] (Ep. 4)

(Guest Role)

14
"Thor" / Park Woo Seok [Asgard member] (Ep. 4)
Guest Role

8.4
2016
SparkKorean Drama,

2016

, 12 eps


(Guest Role)

12
Guest Role

7.1
Berikut Adalah Daftar TV Show-nya Hingga Saat Ini:
Year
Title
#
Role
Rating
2022
Idol Drawing ContestKorean TV Show,

2022

, 4 eps


(Regular Member)

4
Regular Member

7.4
2022
Queendom 2Korean TV Show,

2022

, 10 eps


(Ep. 3-4)

(Guest)

10
(Ep. 3-4)
Guest

7.7
2022
I Can See Your Voice Season 9Korean TV Show,

2022

, 12 eps


[Panelist] (Ep. 9)

(Guest)

12
[Panelist] (Ep. 9)
Guest

8.1
2022
Idol Challenge: Another Class Season 2Korean TV Show,

2022

, 22 eps


(Ep. 1, 2)

(Guest)

22
(Ep. 1, 2)
Guest

8.0
2021
Mama the IdolKorean TV Show,

2021

, 8 eps


(Ep. 8)

(Guest)

8
(Ep. 8)
Guest

8.3
2021
PentahouseKorean TV Show,

2021

, 8 eps


(Regular Member)

8
Regular Member

8.9
2021
We CycleKorean TV Show,

2021

, 15 eps


(Regular Member)

15
Regular Member

8.5
2021
Adola School: Homecoming DayKorean TV Show,

2021

, 22 eps


(Ep. 19)

(Guest)

22
(Ep. 19)
Guest

0.0
2021
Midnight Idol Season 2Korean TV Show,

2021

, 150 eps


(Ep. 114)

(Guest)

150
(Ep. 114)
Guest

8.9
2021
Seulgi.ZipKorean TV Show,

2021

, 52 eps


(Ep. 27)

(Guest)

52
(Ep. 27)
Guest

8.8
2021
K-Pop EvolutionKorean TV Show,

2021

, 7 eps


(Ep. 3)

(Guest)

7
(Ep. 3)
Guest

9.0
2021
UNBOXING w/ JINJIN & KINOKorean TV Show,

2021

, 12 eps


(Ep. 3-4)

(Guest)

12
(Ep. 3-4)
Guest

8.7
2021
Update on Your Real Characters' TasteKorean TV Show,

2021

, 18 eps


(Ep. 2)

(Guest)

18
(Ep. 2)
Guest

0.0
2021
Fact iN Star Season 2Korean TV Show,

2021

, 36 eps


(Ep. 3-4)

(Guest)

36
(Ep. 3-4)
Guest

8.0
2021
Rumor OffisherlockKorean TV Show,

2021

, 18 eps


(Ep. 2)

(Guest)

18
(Ep. 2)
Guest

10.0
2021
4 BeatsKorean TV Show,

2021

, 14 eps


(Ep. 6)

(Guest)

14
(Ep. 6)
Guest

0.0
2021
Gossip IdleKorean TV Show,

2021

, 75 eps


(Ep.54)

(Guest)

75
(Ep.54)
Guest

8.8
2020
Idol Workshop PentagonKorean TV Show,

2020

, 5 eps


(Regular Member)

5
Regular Member

8.6
2020
Idol WonderlandKorean TV Show,

2020

, 10 eps


(Ep. 4)

(Guest)

10
(Ep. 4)
Guest

8.1
2020
PENTAGON's Jack PodKorean TV Show,

2020

, 10 eps


(Regular Member)

10
Regular Member

8.9
2020
Idol Human TheaterKorean TV Show,

2020

, 39 eps


(Ep. 26)

(Guest)

39
(Ep. 26)
Guest

8.5
2020
Idol Picknic: PentagonKorean TV Show,

2020

, 2 eps


(Regular Member)

2
Regular Member

0.0
2020
Idol League: Season 3Korean TV Show,

2020

, 20 eps


(Ep.2, 23)

(Guest)

20
(Ep.2, 23)
Guest

8.4
2020
Show Me The Money: Season 9Korean TV Show,

2020

, 10 eps


[Contestant]

(Regular Member)

10
[Contestant]Regular Member

7.8
2020
Eungsu CINEKorean TV Show,

2020

, 350 eps


(Ep. 113)

(Guest)

350
(Ep. 113)
Guest

6.0
2020
2020 Idol eSports Athletics ChampionshipsKorean TV Show,

2020

, 1 eps


[KartRider Rush+] [PUBG]

(Guest)

1
[KartRider Rush+] [PUBG]Guest

8.1
2020
Back to the IdolKorean TV Show,

2020

, 8 eps


(Ep.7)

(Guest)

8
(Ep.7)
Guest

8.0
2020
Idol HouseKorean TV Show,

2020

, 18 eps


(Ep. 11)

(Guest)

18
(Ep. 11)
Guest

8.3
2020
Idol Challenge: Another ClassKorean TV Show,

2020

, 9 eps


(Ep.9)

(Guest)

9
(Ep.9)
Guest

8.0
2020
Vogue Ship ShowKorean TV Show,

2020

, 68 eps


(Ep. 46)

(Guest)

68
(Ep. 46)
Guest

0.0
2020
All That CUBEKorean TV Show,

2020

, 16 eps


(Ep.1, 14)

(Guest)

16
(Ep.1, 14)
Guest

8.7
2020
IDOL VS. IDOLJapanese TV Show,

2020

, 80 eps


(Ep.5-8, 73-76)

(Guest)

80
(Ep.5-8, 73-76)
Guest

8.5
2020
Idol Ability MarketKorean TV Show,

2020

, 27 eps


(Ep. 12)

(Guest)

27
(Ep. 12)
Guest

8.9
2020
Road to KingdomKorean TV Show,

2020

, 8 eps


[Contestant]

(Regular Member)

8
[Contestant]Regular Member

8.5
2020
K-Bob StarKorean TV Show,

2020

, 18 eps


(Ep. 13)

(Guest)

18
(Ep. 13)
Guest

8.5
2020
Secret Friend of IdolsKorean TV Show,

2020

, 38 eps


(Ep. 3)

(Guest)

38
(Ep. 3)
Guest

8.3
2020
‏2020 Idol Star Athletics ChampionshipsKorean TV Show,

2020

, 9 eps


(Regular Member)

9
Regular Member

8.1
2020
Decoding MeowKorean TV Show,

2020

, 6 eps


(Regular Member)

6
Regular Member

9.0
2019
TransonglationKorean TV Show,

2019

, 67 eps


(Ep. 6, 32)

(Guest)

67
(Ep. 6, 32)
Guest

8.5
2019
Two Yoo Project Sugar Man: Season 3Korean TV Show,

2019

, 14 eps


(Ep.1)

(Guest)

14
(Ep.1)
Guest

7.9
2019
Tingle InterviewKorean TV Show,

2019

, 68 eps


(Ep. 2)

(Guest)

68
(Ep. 2)
Guest

8.5
2019
2019 Idol Star Athletics Championships Chuseok SpecialKorean TV Show,

2019

, 6 eps


(Regular Member)

6
Regular Member

8.0
2019
Midnight Idol Season 1Korean TV Show,

2019

, 345 eps


(Ep. 124, 280, 324)

(Guest)

345
(Ep. 124, 280, 324)
Guest

8.4
2019
Q&A MachineKorean TV Show,

2019

, 32 eps


(Ep. 28)

(Guest)

32
(Ep. 28)
Guest

7.6
2019
5 Minutes to SixKorean TV Show,

2019

, 425 eps


(Ep. 292)

(Guest)

425
(Ep. 292)
Guest

8.0
2019
Lunch AttackKorean TV Show,

2019

, 800 eps


(Ep. 424, 642)

(Guest)

800
(Ep. 424, 642)
Guest

0.0
2019
Idol Dabang: Season 1Korean TV Show,

2019

, 8 eps


(Ep.1)

(Guest)

8
(Ep.1)
Guest

8.2
2019
Prison InterviewKorean TV Show,

2019

, 21 eps


(Ep.20)

(Guest)

21
(Ep.20)
Guest

8.8
2019
Telepathy LiveKorean TV Show,

2019

, 4 eps


[Ep. 3]

(Guest)

4
[Ep. 3]Guest

8.2
2019
Run.wavKorean TV Show,

2019

, 25 eps


(Ep. 5)

(Guest)

25
(Ep. 5)
Guest

8.3
2019
Star Road: PentagonKorean TV Show,

2019

, 24 eps


(Regular Member)

24
Regular Member

8.1
2018
Mafia DanceKorean TV Show,

2018

, 26 eps


(Ep. 11)

(Guest)

26
(Ep. 11)
Guest

8.5
2018
Pentagon – Just Do It Yo!Korean TV Show,

2018

, 24 eps


(Regular Member)

24
Regular Member

8.7
2018
Idol RoomKorean TV Show,

2018

, 87 eps


(Ep. 5)

(Guest)

87
(Ep. 5)
Guest

8.0
2018
Idol League: Season 1Korean TV Show,

2018

, 56 eps


(Ep. 5, 36)

(Guest)

56
(Ep. 5, 36)
Guest

8.5
2018
K-RUSH: Season 3Korean TV Show,

2018

, 33 eps


(Ep. 31)

(Guest)

33
(Ep. 31)
Guest

8.5
2017
Pentagon X Happiness TrainKorean TV Show,

2017

, 1 eps


(Main Host)

1
Main Host

8.7
2017
PentoryKorean TV Show,

2017

, 170 eps


(Regular Member)

170
Regular Member

8.7
2016
Fact iN StarKorean TV Show,

2016

, 200 eps


(Ep. 72, 124-125)

(Guest)

200
(Ep. 72, 124-125)
Guest

8.3
2016
The ImmigrationKorean TV Show,

2016

, 13 eps


(Guest)

13
Guest

8.1
2016
Pentagon MakerKorean TV Show,

2016

, 12 eps


(Regular Member)

12
Regular Member

8.0
2013
Premium MelodiX!Japanese TV Show,

2013

, 500 eps


(Guest)

500
Guest

0.0
2011
Weekly IdolKorean TV Show,

2011

, 594 eps


(Ep. 288, 399, 416, 506, 563-564)

(Guest)

594
(Ep. 288, 399, 416, 506, 563-564)
Guest

8.1
2011
Immortal Songs: Singing the LegendKorean TV Show,

2011

, 600 eps


(Ep. 373-374, 400, 409, 481)

(Guest)

600
(Ep. 373-374, 400, 409, 481)
Guest

8.3
1998
Pops in SeoulKorean TV Show,

1998

, 6000 eps


(Guest)

6000
Guest

8.0