Kim Min Gue Nama: Kim Min Gue Nama asli juga Dikenal sebagai: Kim Min Gyu, Kim Min Kyu Kebangsaan: Korea Selatan Jenis Kelamin: Pria Lahir: 25 Desember 1994 Umur: 27 Kim Min Gue is a South Korean actor and model under Happy Tribe Entertainment.
He dreamed of becoming an actor when he was in elementary school after he watched The Lord of the Rings.
He began his acting career in 2013, playing a minor role in the Mnet series "Monstar".
Kim gained recognition for his career's first leading role through the 2019 historical series "Queen: Love and War".
Biodata Kim Min Gue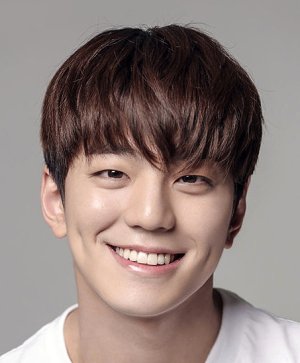 Nama: Min Gue
Nama Keluarga / Marga: Kim
Nama Asli Sesuai Bahasa Negaranya: 김민규
Nama Lain Yang Sering Disebutkan: Kim Min Gyu, Kim Min Kyu
KewargaNegaraan: South Korean
Jenis Kelamin: Pria
Tanggal Dan Tahun lahir: December 25, 1994
Umur: 27
Berikut Adalah Daftar Drama-nya Hingga Saat Ini:
Year
Title
#
Role
Rating
2023
The High Priest RembraryKorean Drama,

2023

, 0 eps


Rembrary / Woo Yeon Woo

(Main Role)

0
Rembrary / Woo Yeon Woo
Main Role

0.0
2022
A Business ProposalKorean Drama,

2022

, 12 eps


Cha Sung Hoon

(Main Role)

12
Cha Sung Hoon
Main Role

8.7
2021
SnowdropKorean Drama,

2021

, 16 eps


Joo Gyeok Chan

(Support Role)

16
Joo Gyeok Chan
Support Role

8.5
2021
Nevertheless,Korean Drama,

2021

, 10 eps


"Dimples" [Bit Na's gym trainer] (Ep. 8-9)

(Guest Role)

10
"Dimples" [Bit Na's gym trainer] (Ep. 8-9)
Guest Role

7.5
2021
So I Married an Anti-FanKorean Drama,

2021

, 16 eps


Go Soo Hwan

(Support Role)

16
Go Soo Hwan
Support Role

8.0
2020
Backstreet RookieKorean Drama,

2020

, 16 eps


Kang Ji Wook [Actor / Jung Saet Byul's alumnus] (Ep.4-6, 8-13)

(Main Role)

16
Kang Ji Wook [Actor / Jung Saet Byul's alumnus] (Ep.4-6, 8-13)
Main Role

7.7
2020
Ga Doo Ri's Sushi RestaurantKorean Drama,

2020

, 12 eps


[Passerby](Ep.8)

(Guest Role)

12
[Passerby](Ep.8)
Guest Role

7.8
2019
Queen: Love And WarKorean Drama,

2019

, 16 eps


Lee Gyung

(Main Role)

16
Lee Gyung
Main Role

7.9
2019
PerfumeKorean Drama,

2019

, 32 eps


Yun Min Suk

(Main Role)

32
Yun Min Suk
Main Role

7.9
2018
Let's Eat 3Korean Drama,

2018

, 14 eps


[Lee Ji Woo's blind date partner] (Ep.4)

(Guest Role)

14
[Lee Ji Woo's blind date partner] (Ep.4)
Guest Role

7.7
2018
Rich Family's SonKorean Drama,

2018

, 100 eps


Kim Myung Ha

(Support Role)

100
Kim Myung Ha
Support Role

7.5
2017
Just Between LoversKorean Drama,

2017

, 16 eps


Jin Young

(Support Role)

16
Jin Young
Support Role

8.6
2017
MeloholicKorean Drama,

2017

, 10 eps


Yoo Byung Chul

(Support Role)

10
Yoo Byung Chul
Support Role

7.4
2017
Romance Special LawKorean Drama,

2017

, 6 eps


Jung Eui Chan

(Main Role)

6
Jung Eui Chan
Main Role

7.2
2017
We Are Peaceful BrothersKorean Drama,

2017

, 15 eps


Lee Sang

(Main Role)

15
Lee Sang
Main Role

7.8
2017
Because This Is My First LifeKorean Drama,

2017

, 16 eps


Yeon Bok Nam

(Support Role)

16
Yeon Bok Nam
Support Role

8.5
2017
Take Care Of The GoddessKorean Drama,

2017

, 8 eps


Park Joo Won

(Main Role)

8
Park Joo Won
Main Role

6.9
2016
Oh My Geum BiKorean Drama,

2016

, 16 eps


Mo Hwi Cheol [Young]

(Guest Role)

16
Mo Hwi Cheol [Young]Guest Role

8.2
2016
The Sound of Your HeartKorean Drama,

2016

, 20 eps


[soldier] (Ep.2) / [male college student] (Ep.14)

(Guest Role)

20
[soldier] (Ep.2) / [male college student] (Ep.14)
Guest Role

8.3
2016
Virtual ExcitementKorean Drama,

2016

, 6 eps


Himself

(Main Role)

6
Himself
Main Role

7.5
2016
Yeah, That's How It IsKorean Drama,

2016

, 54 eps


(Support Role)

54
Support Role

7.6
2016
SignalKorean Drama,

2016

, 16 eps


Hwang Ui Kyung

(Support Role)

16
Hwang Ui Kyung
Support Role

9.0
2016
Jang Young ShilKorean Drama,

2016

, 24 eps


Shin Suk Joo

(Support Role)

24
Shin Suk Joo
Support Role

7.7
2015
Who Are You: School 2015Korean Drama,

2015

, 16 eps


[Swimming Team Member]

(Support Role)

16
[Swimming Team Member]Support Role

8.2
2013
MonstarKorean Drama,

2013

, 12 eps


(Guest Role)

12
Guest Role

7.3
Berikut Adalah Daftar Movie-nya Hingga Saat Ini:
Year
Title
Role
Rating
2019
The Battle of JangsariKorean Movie,

2019

,


Choi Jae Pil

(Support Role)

Choi Jae Pil
Support Role

8.0
2018
The WhisperingKorean Movie,

2018

,


Min Woo

(Main Role)

Min Woo
Main Role

6.9
2016
ChasingKorean Movie,

2016

,


Kim Tae Young

(Support Role)

Kim Tae Young
Support Role

7.4
2013
The FiveKorean Movie,

2013

,


(Guest Role)

Guest Role

7.7
Berikut Adalah Daftar Special-nya Hingga Saat Ini:
Year
Title
#
Role
Rating
2022
Curious Business Proposal Story YKorean Special,

2022

, 1 eps


Cha Sung Hoon

(Main Role)

1
Cha Sung Hoon
Main Role

8.3
2018
Drunk in Good TasteKorean Special,

2018

, 10 eps


Lee Yeon Nam

(Main Role)

10
Lee Yeon Nam
Main Role

7.9
Berikut Adalah Daftar TV Show-nya Hingga Saat Ini:
Year
Title
#
Role
Rating
2022
Sixth Sense 3Korean TV Show,

2022

, 14 eps


(Ep. 13)

(Guest)

14
(Ep. 13)
Guest

8.4
2021
Midnight Horror Story Season 1Korean TV Show,

2021

, 47 eps


(Ep. 9)

(Guest)

47
(Ep. 9)
Guest

8.3
2019
Convenience Store RestaurantKorean TV Show,

2019

, 160 eps


[Special appearance] (Ep. 7)

(Guest)

160
[Special appearance] (Ep. 7)
Guest

8.3
2019
Love Me ActuallyKorean TV Show,

2019

, 20 eps


(Regular Member)

20
Regular Member

8.0
2019
I Can See Your Voice Season 6Korean TV Show,

2019

, 13 eps


[Tone-deaf detective] (Ep. 1)

(Guest)

13
[Tone-deaf detective] (Ep. 1)
Guest

8.1
2018
Omniscient Interfering ViewKorean TV Show,

2018

, 237 eps


(Ep. 198-199)

(Guest)

237
(Ep. 198-199)
Guest

8.3
2018
I Can See Your Voice Season 5Korean TV Show,

2018

, 13 eps


[Tone-deaf detective] (Ep. 10)

(Guest)

13
[Tone-deaf detective] (Ep. 10)
Guest

8.1
2017
Master in the HouseKorean TV Show,

2017

, 238 eps


[1-Day Disciple] (Ep. 217-218)

(Guest)

238
[1-Day Disciple] (Ep. 217-218)
Guest

8.6
2017
Show Me OppaKorean TV Show,

2017

, 4 eps


(Regular Member)

4
Regular Member

7.7
2017
Crime Scene: Season 3Korean TV Show,

2017

, 12 eps


Assistant Detective

(Regular Member)

12
Assistant Detective
Regular Member

8.0
2017
I Can See Your Voice Season 4Korean TV Show,

2017

, 19 eps


[Contestant] (Ep. 3)

(Guest)

19
[Contestant] (Ep. 3)
Guest

8.1
2016
Video Star: Season 1Korean TV Show,

2016

, 90 eps


(Ep.43)

(Guest)

90
(Ep.43)
Guest

7.9
2016
Battle TripKorean TV Show,

2016

, 177 eps


(Ep. 157-158)

(Guest)

177
(Ep. 157-158)
Guest

8.2
2013
Cool Kiz on the BlockKorean TV Show,

2013

, 174 eps


(Ep. 123-124)

(Guest)

174
(Ep. 123-124)
Guest

8.2
2010
Hello Counselor: Season 1Korean TV Show,

2010

, 431 eps


(Ep. 345)

(Guest)

431
(Ep. 345)
Guest

7.9
2010
Running ManKorean TV Show,

2010

, 637 eps


(Ep. 504)

(Guest)

637
(Ep. 504)
Guest

9.2
2007
Radio StarKorean TV Show,

2007

, 800 eps


(Ep. 772)

(Guest)

800
(Ep. 772)
Guest

7.9